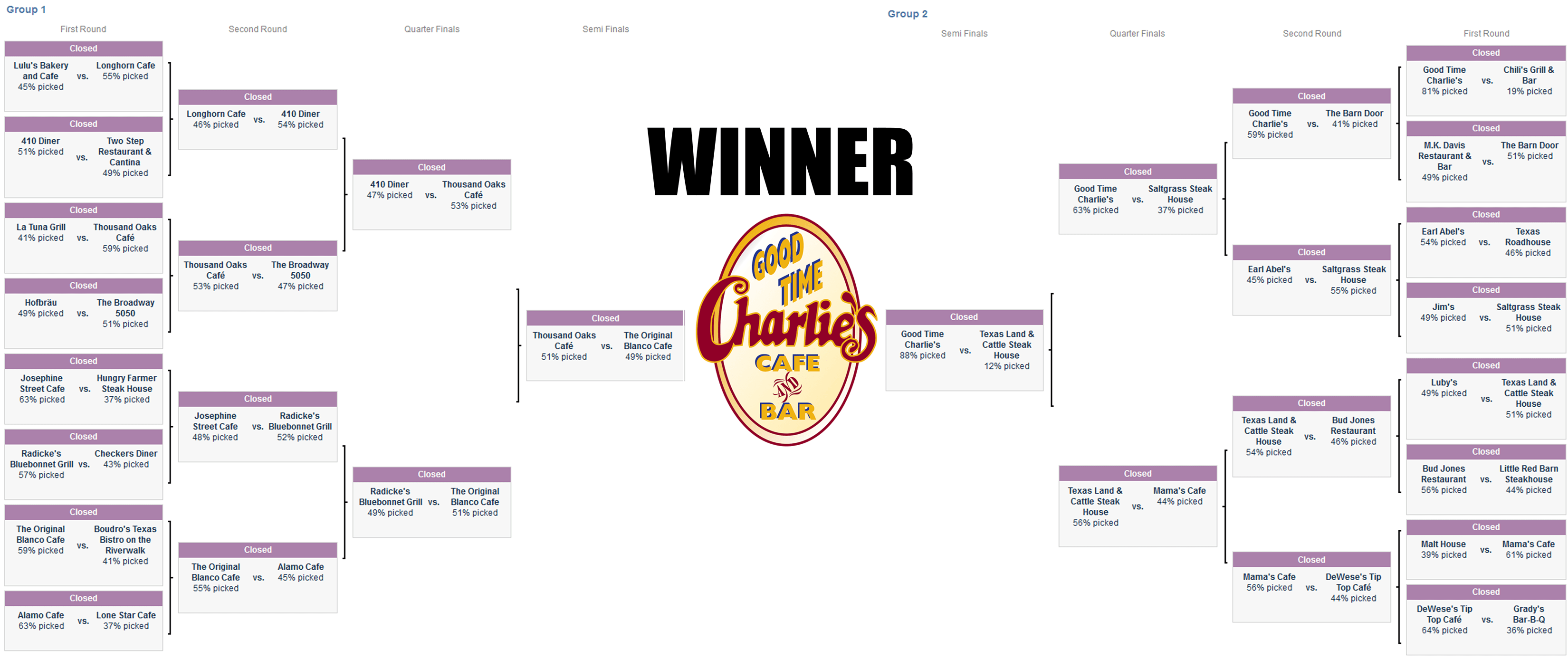 GoodTimeCharlie's wins again







Good Time Charlie's Facebook campaign started on Day 1 of the Express-News Chicken-fried Madness bracket vote. The message was pretty simple: "Come show your support for the best chicken fried steak in San Antonio!!" The same day, a quick reminder: "Keep voting!!!"

During the 17-day voting, as Good Time Charlie's was polishing off the fried field of 32 in dominating fashion, the posts stayed consistent. By the final day, there was little doubt of the page's intent: "Let your hunger be heard!!!"

It was — loud and clear.

Good Time Charlie's, the staple on Broadway since 1979, ran away with the title of best chicken-fried steak in San Antonio, beating its five opponents by an average of 55 percentage points, culminating with a 94-point victory over Thousand Oaks Café in the final.

Partial credit can go to this flawless Facebook campaign, but the main course is the reason Good Time Charlie's is No. 1.

"If anyone asks me where to go for a good chicken-fried steak, (Good Time Charlie's) is always my first recommendation," said Norman Dugas, a self-employed real-estate developer who has been eating at the restaurant for around 30 years. "If I'm going to eat a chicken-fried steak, I'm going to eat at Good Time Charlie's."

The success starts with the cream gravy — and lots of it. Co-owners Millard Stetler and Eddie Ruffo say their crew, starting at 5 a.m. seven days a week, mixes up around a minimum of 25 gallons of the thick goodness each day.

The roux-based gravy is then slathered on around 2,000 battered steaks each week.

Buried underneath the wave of gravy is a fresh piece of tenderized meat, which Good Time Charlie's receives each morning from Texas Meat Purveyors. It's breaded in a seasoned flour and fried to perfection, bringing lines of patrons around the clock.

"People have liked it for a long time," said Stetler, whose restaurant won the Express-News' best burger bracket two years ago. "We feel like if it's not broke, don't fix it. We don't know any better way to fix it. As long as the customers are pleased with it and we're happy with the product, we're not gonna change it."

It shows in the results of this year's mySA.com bracket vote.

"We always felt that our chicken-fried steak could stand with any other," Stetler said. "We were optimistic (about this contest), because we feel like we've got a pretty gosh-darn good chicken-fried steak."

A simple campaign toward another title ensued.

"First off, we went to our staff," Stetler said. "We said, 'Look, we've got a chance. If we get out there and get the word out, we have a chance.' We felt (the chicken-fried steak) is in our wheelhouse. They then started spreading the word — family, friends, customers. We printed out simple notices and handed them out here."

With a little help from Facebook, from there it was all gravy.

bhenry@express-news.net Twitter: @burthen21
GoodTimeCharlie's wins again
Good Time Charlie's Facebook campaign started on Day 1 of the Express-News Chicken-fried Madness bracket vote. The message was pretty simple: "Come show your support for the best chicken fried steak in San Antonio!!" The same day, a quick reminder: "Keep voting!!!"
During the 17-day voting, as Good Time Charlie's was polishing off the fried field of 32 in dominating fashion, the posts stayed consistent. By the final day, there was little doubt of the page's intent: "Let your hunger be heard!!!"
It was — loud and clear.
Good Time Charlie's, the staple on Broadway since 1979, ran away with the title of best chicken-fried steak in San Antonio, beating its five opponents by an average of 55 percentage points, culminating with a 94-point victory over Thousand Oaks Café in the final.
Partial credit can go to this flawless Facebook campaign, but the main course is the reason Good Time Charlie's is No. 1.
"If anyone asks me where to go for a good chicken-fried steak, (Good Time Charlie's) is always my first recommendation," said Norman Dugas, a self-employed real-estate developer who has been eating at the restaurant for around 30 years. "If I'm going to eat a chicken-fried steak, I'm going to eat at Good Time Charlie's."
The success starts with the cream gravy — and lots of it. Co-owners Millard Stetler and Eddie Ruffo say their crew, starting at 5 a.m. seven days a week, mixes up around a minimum of 25 gallons of the thick goodness each day.
The roux-based gravy is then slathered on around 2,000 battered steaks each week.
Buried underneath the wave of gravy is a fresh piece of tenderized meat, which Good Time Charlie's receives each morning from Texas Meat Purveyors. It's breaded in a seasoned flour and fried to perfection, bringing lines of patrons around the clock.
"People have liked it for a long time," said Stetler, whose restaurant won the Express-News' best burger bracket two years ago. "We feel like if it's not broke, don't fix it. We don't know any better way to fix it. As long as the customers are pleased with it and we're happy with the product, we're not gonna change it."
It shows in the results of this year's mySA.com bracket vote.
"We always felt that our chicken-fried steak could stand with any other," Stetler said. "We were optimistic (about this contest), because we feel like we've got a pretty gosh-darn good chicken-fried steak."

A simple campaign toward another title ensued.

"First off, we went to our staff," Stetler said. "We said, 'Look, we've got a chance. If we get out there and get the word out, we have a chance.' We felt (the chicken-fried steak) is in our wheelhouse. They then started spreading the word — family, friends, customers. We printed out simple notices and handed them out here."

With a little help from Facebook, from there it was all gravy.

bhenry@express-news.net Twitter: @burthen21